Buzz surrounding Porsche's newest electric sports car
By Product Expert | Posted in Porsche Taycan on Monday, February 10th, 2020 at 8:25 pm
How are people responding to the 2020 Porsche Taycan?
Electric cars are becoming more and more popular, but the availability of electric luxury cars isn't exactly saturated. That's all changing now with models like the highly-acclaimed 2020 Porsche Taycan, the first electric car available from the esteemed German automaker. There's a lot of buzz surrounding this sporty coupe, so how are people responding to it? Let's take a look.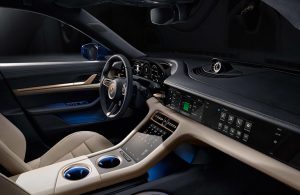 Porsche took a little trip around Los Angeles awhile back with the Taycan in an effort to get some feedback from drivers. One driver, Raquel Tavares, is a health-conscious person who has started her own brand to help promote healthy and balanced lifestyles. She noted that the environment is important to both her and her company as a whole, and that opting for a Taycan would be an excellent way to help keep the environment clean.
The next person Porsche chatted with was Russell Gewirtz, a screenwriter who was also intrigued by the way a luxury automaker was dipping their foot in the electric car segment. After taking it for a spin, Russell noted that the car has a surprising acceleration and get-up speed that is atypical of electric cars.
Julia Clancey, a fashion designer, also sat down with Porsche to discuss her lifestyle and how the Taycan would fit in. Since Julia works for a company that makes turbans and jumpsuits for all seasons while producing zero waste, she noted that sustainable driving is important and a huge step in the right direction. Julia added that the 2020 Taycan feels quite large and safe inside, and gave a big thumbs up.
These are just a few opinions, but it seems like drivers everywhere are intrigued by the idea of a sustainable and emission-free luxury sports car that still performs at an elite level. Learn more by contacting us here at McDaniels Porsche!